Bathroom Interior Design Colors | Blue and Chocolate Inspirations
All is not lost with a small bathroom in your home. It is possible to decorate your small bathroom in a way that makes it appear larger, airy and open.
One of the more important things you can do to decorate your small bathroom is to first clear your bathroom of clutter. Remove unnecesasry bottles of shampoo, bars of soaps that are collectng dust. For the ones you use daily, store them in a wall cabinet, or create a place for them on the shower walls.
Also the small bathroom can appear larger with the use of certain colors, and correct kinds of bathroom accents.
And if you are still under the illusion that white bathrooms are still in - let me correct you! Go for colors instead!
For this article, we focus on blue and chocolate bathroom colors.
Please read on for more tips on decorating a small bathroom. Following the article, we feature blue and chocolate bathroom inspirations and colors.
Decorating a Small Bathroom
By Tameka Norris
A bathroom is our own little private place. We spend countless hours selecting the proper wall layouts, mirror shapes, the herbal oils and body lotions, etc. We always make an attempt to keep our bathrooms well maintained and up to date.
Openness and airiness is the key towards making your bathroom look larger in size. It may seem impossible to do it with no windows or one small window in a tiny bathroom that hardly affords you room to stand. Yet, with the right combination of color and décor if space allows, you will feel like your bathroom has grown by leaps and bounds. Let me reveal the secrets of decorating your tiny bathroom.
Saving the Space
Though there is not enough room for you to move around in your bathroom, still with a little thought, we can face lift your old and small space. Let's say, make a small glass cabin in your bathroom for quick showers? These ideas sound a little awkward - but trust me; a glass cabin will not only give you enough space for shower, but also will make your bathroom look more stylish.
Choose the Right Furniture
Rather than adding bulky bath tubs and sink, try getting more sleek and innovative items for your bathroom. Throw away your hamper, and other than that, try using a basket which will give the illusion of more space while still allowing towels and bath linens to be hidden away.
Get Rid of the Boring White Walls
We have been living under an impression that white bathrooms make clean bathrooms. But let me tell you that this is way out of fashion right now! Rather than using white paint and making your bathroom look a lot smaller, try applying monochromatic palette, or use colors which have identical power without making the room appear overcrowded. For example, bright shades of pink or orange can make your bathroom look spectacular. Make your walls look bright and exotic. After this, if you feel like spending more time in your bathroom, you have won the game!
Scented Candles
The scent in your bathroom will make you go crazy and lead you towards a lot comfortable life. Scented candles exert a feeling of clean atmosphere and the very aromatic feel makes you loose yourself. Candles can also hide the bumps and patches in your bathroom. To a surprise, they fill up the narrowest space. Go and buy some of these!
Add a Dash of Drama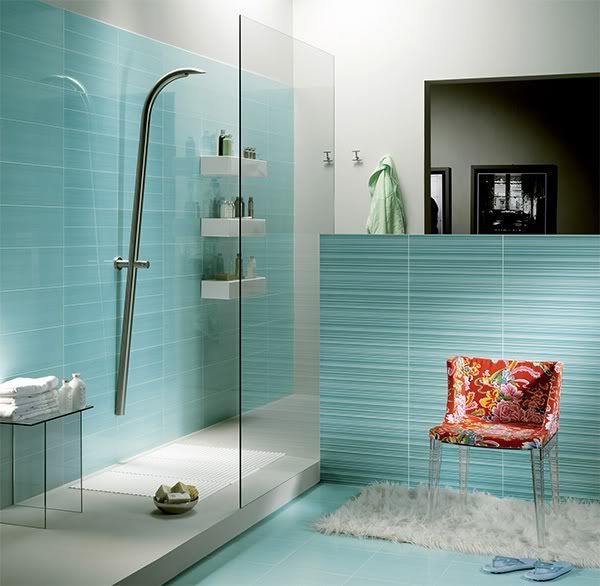 While too many bathroom accessories or large pieces of furniture can quickly surround a small room, don't be afraid to add a little drama to your small bathroom's decor with a single bold focal point. A unique hanging chandelier, a graceful sink cabinet or an outstanding huge vanity mirror can add the perfect dash of unexpected glamour to complete your bathroom decor.
What are you waiting for? Start looking for the types of items you would like to purchase. There is a great collection of products available and you might be surprised at just how many different styles exist ranging from the stylish to sporty and then of course modern.
Learn how to decorate Small Spaces. Also enjoy, furnishing tips, photos of small spaces and projects for the DIYer.
Article Source: http://EzineArticles.com/?expert=Tameka_Norris
Blue Chocolate Bathroom Interior Design Inspirations
Small Bathroom Walls in Baby Blue
and White Bathroom Accessories


Brilliant Blue and White Tiled Bathroom Walls
With Space-Saving Sink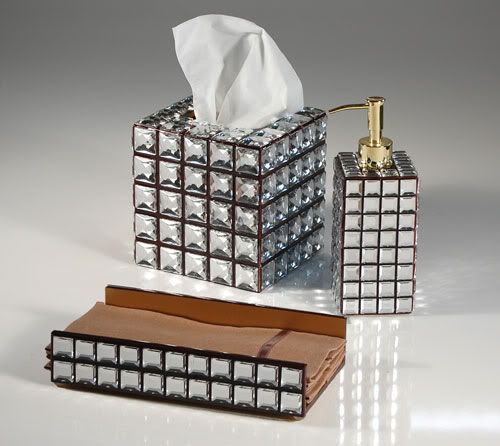 Blue Chocolate Bathroom Accessories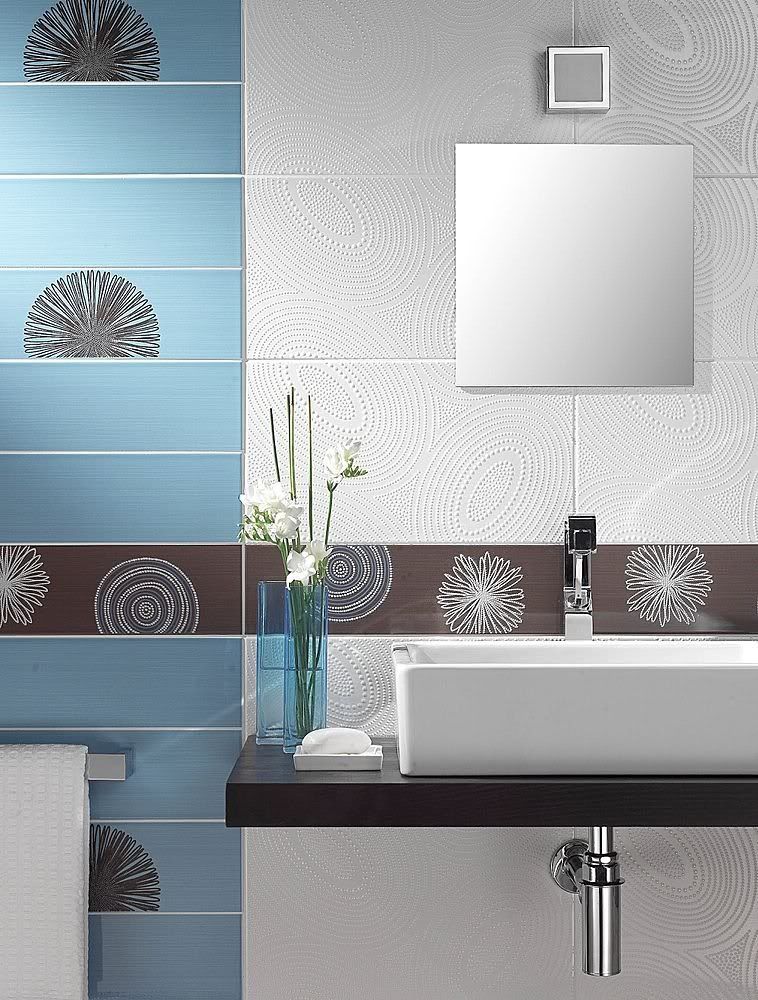 Blue Chocolate Ceramic Tiles in Bathroom

You May Also Find Useful

Bamboo Window Blinds

Faux Wood Window Blinds

Labels: Bathroom