Nautical Living Room Interior Design Ideas
One of the more popular ideas in themed interior designs is the nautical look. The word itself, nautical, should give you a sense of what this look is about. It is all about calming blue colors in various shade options, be it light blue, sea blue, sky blue or navy blue. One of the more popular color pairs for the nautical look is white, but vibrant constrast colors such as red can also work.
While the nautical look can be applied in the bedrooms - the wide range of nautical beddings are indication of the look's popularity - the nautical look can be a great look for a living room too.
Take a look at the article below that provides tips that you can use in creating a nautical themed living room look.
Also, are
Decorating a Nautical Themed Living Room Or Bedroom
By James R Shaw
Nautical themes are very popular right now, especially for living room or bedroom décor. When you're planning to use a nautical theme, the first thing you should do is paint the walls blue, like the water. Depending on your tastes you can use anything from very pale blue to bright or dark blue; any shade of blue will work with a nautical theme. When decorating your nautical themed living room or bedroom, consider scenes you may encounter when walking along a boardwalk or at a marina, and use those as your inspiration.
Nautical décor should include elements that you would find on a boat. Natural ropes, netting, accents in bright red and white, and a porthole motif can all be easy ways to tie everything together. You can also add a few flags tied to the tallest piece of furniture in the room, or use wooden flags that can be hung around the top of the walls all the way around your room. If you have wood paneling, don't cover it up; wood paneling on interior walls can remind you of the interior cabin on a ship or inside a beach house.
For the walls and windows, canvas is a traditional material that is very popular in nautical décor. It can be used for curtains, dust ruffles for the bed, and other details. Canvas curtains hung with the use of large eyelets are a classic piece of nautical décor. You can even recycle an old sail, if you have access to one. The canvas can also be used to cover cushions or throw pillows.
Use natural wood furniture or paint your furniture white or cream, possibly with a distressed look, to make it fit in with your nautical décor. The paint should not be shiny or new-looking; it should look as if the furniture has had years of use on the beach or out to sea. If you're choosing a whole new set of furniture to go with the nautical look, go for those that look like they belong in a beach cabin, including Adirondack chairs and wooden furniture. If you want to get creative with the furniture, you can even use a hammock for a chair or bed to represent a fishing net. Boat shaped beds are also a possibility. If you choose to stay with a regular bed, use blue and white bedding with red accents. These are the traditional "nautical" colors.
As for as decorations are concerned, paddles and oars are an appropriate touch for any nautical-themed room. Pictures of sailing boats or other nautical or beach themes can be a great way to provide a centerpiece in the room. Model sailboats, lighthouses, anchors, ship wheels, life rings, and vintage glass fishing floats can bring a nautical style to the walls, bookshelves, and tables in the room.
When done right, a nautical themed room is unique and inviting. It should instantly remind you of the seaside. If you want your room to be more relaxing than exciting, choose a color scheme consisting of white, khaki, and any shade of blue. Adding a pop of red or yellow can add excitement to the room.
Royal Tiki specializes in genuine Hawaiian-made Nautical Decor that will be perfect for your Nautical themed Living Room or Bedroom.
Article Source: http://EzineArticles.com/?expert=James_R_Shaw
Nautical Blue Living Room Interior Design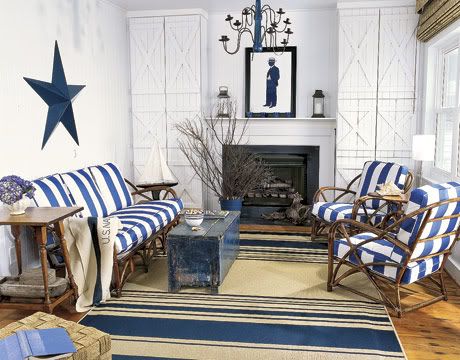 Striped Blue and White Nautical Living Room
Sofa from Crate & Barrel


Neutral Colors Living Room with Nautical Striped Throw Cushions


Open Airy Nautical Living Room Home Decor



You May Also Find Useful

Bamboo Window Blinds

Faux Wood Window Blinds

Labels: Living Room