English Country Homes Living Room Home Decor
If you fancy having a quaint English country home, but do not live in the country, much less in England; well, do not fret. It is possible to create a lovely English country home within your existing living space.
You can create an innovative English country home decor in your own home by applying a blend of formal English style living room furniture, antique accessories and toile. Also key to the English country home style, especially for the living room interior design, would be to use neutral colors.
The above simple tips will help you achieve a regal English country look in your own home!
Additionally, do not imagine that English country home designs for the living room simply means Laura Ashley styles with small flowery printed fabrics. It is also possible to moderanize the English country home living room design.
Please read on more further tips and ideas on creating an English country home.
Below we also feature great English country home living room home decor ideas.
The Charm of English Country Style
By Denise Weiss
There's nothing cozier than to be enveloped in the comforts and charm of English country style. There are several elements that conjure up the tranquility of quaint English cottages, or a chintz filled drawing room.
This style pays attention to every small detail. A mixture of comfortable items such as overstuffed furniture, quilts, fluffy pillows, are inviting and relaxing. There is a quality of opulence, though understated, that is characteristic of this style. This opulence is personified by things like silver urns stuffed full of roses, porcelains, antique clocks, leather bound books, statuary, tassels, paintings and loads of plants.
With this style you can combine the delicate with the bold, the old with the new, the pedigreed with the whimsical. For instance, an English cottage almost always will open onto a garden, if that is not possible, bring the outdoors in with floral wallpaper or fabric designs. Chintz, that beautiful, colorful, shiny cotton fabric, says English cottage like no other fabric except for linen or lace. You can combine these delicate elements with heavier wood furniture pieces such as an heirloom armoire or dining room table and chairs. You can add whimsical elements that are unique to you in your decorating. A flea market find such as horseback riding gear placed on a console table, porcelain tea cups with small ferns inside placed on a windowsill, or a beautiful pitcher and bowl complete with a lace tea towel on a bathroom shelf are things that bring a smile.
Most every English country cottage or home had a fireplace and mantle. This undoubtedly was used as a focal point. This place of honor was home to many things, an antique painting, hung so that the top of the frame leans away from the wall, or a model schooner or sailing ship, or an impressive, ornately framed mirror found a place here.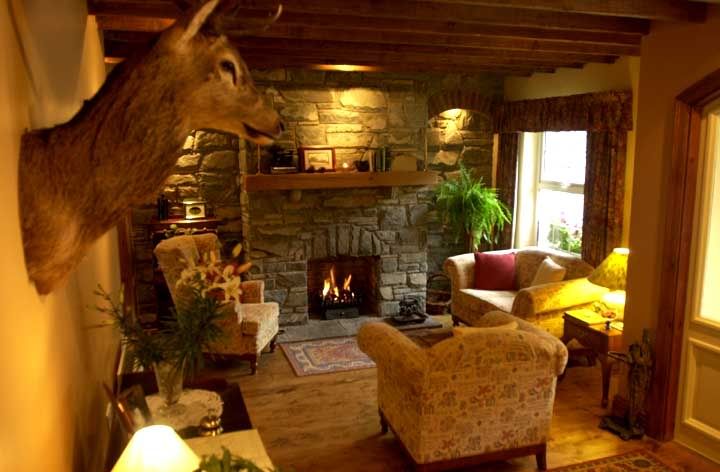 For a very "cottagy" feel, you can paint your furniture white and distress it. You can add elements from the garden like rustic pots, wire sculptures or garden sculptures. You can even bring wrought iron garden furniture into the house. Soften this with comfortable pillows or chair pads, very colorful like the chintz above, or a vintage, softer looking fabric for a more aged appearance. Another nice touch would be crystal. You can find old crystal chandeliers commonly at flea markets, and with a little TLC, revive them for your space. You want to retain the charm of age, so just clean it up a bit. Small touches add lots of character. You can hang herbs upside down in the kitchen to dry; rustic looking baskets can be filled with things like fruit, fluffy rolled towels in the bathroom or in the bedroom - use them to store things like light quilts, or bed linens.
This style is very warm and inviting, you can use light colors and even though you have layers of interesting things it still will remain tranquil. If you tend more toward the dramatic make use of a lot of color texture and pattern, just have your colors remain in harmony from room to room. Whatever it is you're doing, just decorate with everything you love.
Denise is a skilled decorator and has been writing and publishing articles on decorating and other subjects on the web since 2001. Check out her latest website, http://www.knockoffgolfclubs.org, which is all about the benefits of using knock off golf clubs to enjoy the advantage of great name-brand technology for a fraction of the cost.
Article Source: http://EzineArticles.com/?expert=Denise_Weiss
English Country Homes
Living Room Home Decor
English Country Home Living Room Gray & Blue Floral Theme


Classic English Country Living Room - Red and White Theme


Modern English Country Living Room
Sleek Neutral Colors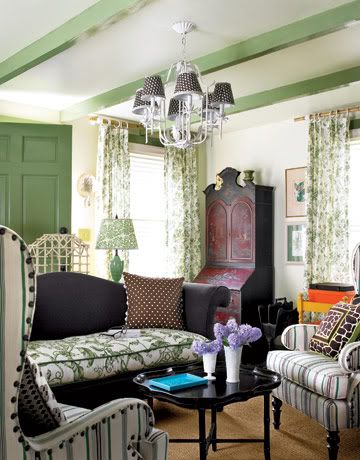 Modern English Country Living Room
Floral Green and White Colors

You May Also Find Useful

Bamboo Window Blinds

Faux Wood Window Blinds

Labels: Country Homes, Living Room